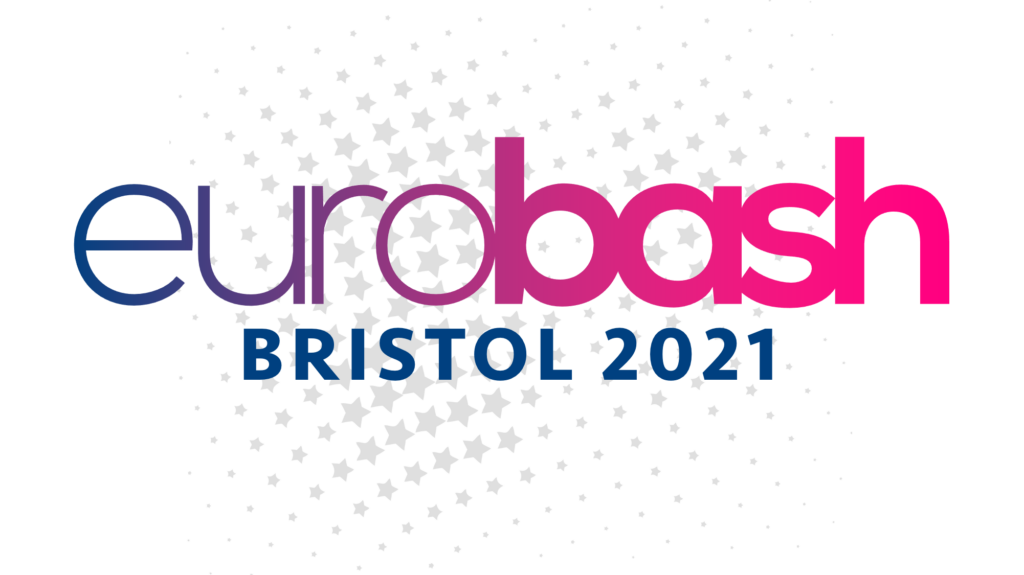 After being forced online in 2020 we are delighted that one of the highlights of the Eurovision calendar is back in person this year.
Tickets available (only very limited tickets for non-members) here but read on for important information about the Bash.
After sampling Yorkshire's hospitality in 2018 and 2019, this year we're moving the bash to England's West Country, and the buzzing and welcoming city of Bristol.
Eurobash 2021 will be hosted at the 4* historic Mercure Bristol Grand Hotel, right in the heart of the city centre, and with a self-contained entertainment space for the bash.
This year's Eurobash takes place on Saturday 2nd October, with a warm-up on the evening of Friday 1st.
What's included?
Friday evening, from approx. 7.30pm: for those choosing to arrive on the Friday night, there will be a welcome party at a local bar (location to be confirmed).
Saturday, from noon:
Buffet lunch with tea & coffee
Eurovision Quiz
The "Battle of the J's" video vote
The Guest List – a Q&A with our special guest panel
Hot buffet dinner
Eurostars – always a highlight of the year, it's a Eurovision "Stars in their Eyes", singers battle it out to win the coveted Eurostars trophy
Gala concert from our special guests
Eurovision disco until 2am, including the all-important Midnight Chips!!
And all this for just £75 (fees included) for OGAE UK members (Other OGAE clubs £80, non-OGAE members £85).
Despite the challenges of Covid, this remains the same price as 2019 and is lower than 2018.
Who are the special guests?
With the cancellation of fan parties over the past 18 months we're delighted to bring you the chance to finally meet some of this year's (and indeed last year's) representatives.
It's become a tradition to get this year's UK performer along, and we're happy to reveal that JAMES NEWMAN will be performing live and chatting to us about his Eurovision experience. And he will be joined by someone who's already become a bit of a fan favourite, the lovely LESLEY ROY from Ireland.
And that's not all – we always like the chance to hear from someone who's worked behind the scenes at Eurovision, and this year we are delighted to be welcoming former UK Head of Delegation and producer of Eurovision 1998, GUY FREEMAN to join us.
So how do I book?
Tickets available here!
After positive feedback from previous delegates we're once again selling tickets on an event-only basis, giving you maximum flexibility in your accommodation choices.
Initially the Eurobash will principally be available to OGAE members. We have a very limited number of tickets available for non-members. If spaces remain available these may be further opened to non-OGAE members. 160 spaces are available at this stage although a limited number of tickets may become available at a later date.
How can I book accommodation?
If you want to stay on-site at the Mercure Bristol Grand Hotel, we have negotiated a limited number of rooms at a bed and breakfast rate of £129 per night for single occupancy and £139 per night for double/twin occupancy. These rates can be To book this, call the hotel direct on 0117 929 1645 and mention that you are with the Eurobash event when booking. 
You can of course book directly with the hotel through their website where you will find a range of other accommodation options including room only rates, different room sizes and advance purchase rates.
Please be aware there is more than one Mercure hotel in Bristol – our event is at the Mercure Bristol Grand Hotel.
If you wish to stay elsewhere, Bristol is well equipped with other hotels and apartment options to suit all budgets.
For those just staying for the Saturday night, time is built into the schedule for you to check-in before dinner.
Coronavirus information
The Mercure Bristol Grand Hotel follows all government guidelines with regards to keeping Covid secure. Circumstances are obviously unpredictable and Eurobash will follow whatever national or local regulations are in place at the time of the event. This could include requirements regarding "Covid passports" and/or Track and Trace.
Changes to national or local regulations may also mean that elements of the event need to be changed, potentially at short notice. We will keep delegates informed through email and social media but appreciate your understanding given the current ever-changing situation.
Although face coverings are no longer mandatory, delegates may choose to wear them if they wish. The main room we will be using for Eurobash does not have external ventilation (ie windows) but does have good internal ventilation, air conditioning and high ceilings to allow suitable air flow.
If the event is cancelled because national or local restrictions mean that the entire event is not able to go ahead, we will seek to provide refunds.
We look forward to welcoming you to Bristol and Eurobash weekend 2021!
If you have any questions please email eurobashuk@gmail.com