Greetings from Tel Aviv! Your OGAE UK team of Hass Yusuf (reporting), Danny Lynch (social media, photos and additional reporting) and Robin Scott (photos and techno stuff) are here for the whole duration. We'll attempt to keep you updated as things progress, add in photos throughout the day, etc. But before all that: DISCLAIMER: Most of this blog is being produced 'live', so the occasional typo or mistake may happen!
Before rehearsals start, let see what occurred in some of yesterday's press conferences (Meet & Greets).
CYPRUS: Tamta, Replay
Tamta is actually Georgian. For various reasons she had to leave her country and ended up in Greece with her young child. She went on to have a very successful musical career. She came runner up in Greek Idol, a judge forX Factor Georgia and X Factor Greece and has performed in various musicals. She's also a bit of a fashion icon  – so she is told. She first tried for Eurovision 12 years ago, and is very grateful for Cyprus for giving her opportunity to take part in the world's greatest musical festival! She learned a lot to get to the Eurovision stage – she recommends to stay clean and true to yourself and respect everyone. Her dream is to travel and experience different cultures – that why she loves Eurovision – it's so international.
I thought I would get the obvious question out of the way – which she was expecting – that Replay, is a bit of a replay from last year's Cypriot entry. Her answer was that the styles were to be expected as both songs had the same author – and if both songs are good, so what? It's an entirely different act. And I agree – in some ways, Replay is more ambitious.
CZECH REPUBLIC: Lake Malawi, Friend Of A Friend
Lead singer, Albert, started to chat up the press conference host by giving her lovely compliments on her looks – randy young so-and-so.  The host actually got excited when she heard he was a fan of Hanson – so they sang one of their hits together…
He said he was still getting used to the cameras and stage – his two fellow band members stay on the spot. At one point he slides on the floor and has to make sure he looks into the camera – not very easy.

I asked the band if the very wild act on stage actually told the story of their song. He had to think hard before saying "no" – but said the story was actually told in the music. 
The inspiration to Friend Of A Friend is real life experience when you suddenly remember an old love and wonder where they are now – lots of memories and emotions.

Albert did apologise to the group's female vocalist who is hidden away, but the group wanted to convey that Lake Malawi is a trio.
To relax members of the group either surf, play a lot of sports, repair motorbikes and pilot planes. All very macho.
BELARUS: ZENA, Like It
ZENA is just 16 years old and isn't new to Eurovision appearing previously on Junior Eurovision and also hosting it. Asked what she preferred – singing or hosting – she replied she wouldn't really choose as she gave it her all. In Belarus she's the 'Voice of Disney'. She chose her stage name of ZENA because for her it meant combining all the good qualities of life.
SERBIA: Nevena Bozovic, Kruna
Nevena appeared on Junior Eurovision 2007 and this is her third appearance overall – she was part of a group some yeas back – but now she's a soloist, which she prefers. She's very proud to represent her country – more so with her own entry!
Nevena is a vegetarian – which is better for the world – and her inspiration is her family. Even though she's up there singing for Serbia, she singing for all the countries. When she wrote her entry, she had her fiancé in mind – but who is now her husband.
Right – time for rehearsals again.
First up today on stage we have Belgium, with Eliot performing Wake Up. This is one of my favourites – by the same author of City Lights a few years back – and you can just about sense the similar style. Eliot is joined on stage by male and female drummers beating their sticks on giant drums.

Eliot has that lost-boy look about him – and just gives off the right amount of angst that is demanded. He's one of the youngest performers this year so all that probably helps his 'innocent' look. But more importantly, his vocals have a nice soulful sound to them.

The electro-beat is very effective and is certainly one of the best sounds from this year's contest. Belgium, unjustly, failed to get through to the Grand Final last year, hopefully this won't be the case this time. This is a slick act which hopefully will be noticed. Thumbs up!
Next we have Georgia with Oto Nemsadze singing Keep On Going. And Georgia do indeed keep on going on and usually offer us something of a classy nature. Oto basically just belts it out and is joined on stage by a five-man tenor choir, along with lots of ice, fire and smoke. Bravo to the great graphics – excellent effects all round this year. The ones used here expertly set the right mood to the song. Mind you, Oto, would make you sit up and listen without any visual help – he'll scare you into submission!

The song isn't to everyone's taste, but it will be remembered. It's all very dramatic with the theme being strive to achieve your aims – strive, strive, strive! Let's hope all that striving gets them into the Grand Final!

Time for Australia now with Kate Miller-Heidke singing Zero Gravity. Now if anyone was impressed by the effects for Georgia, prepare to be mesmerised by three flying figures – images of the good and bad witches of Wizard Of Oz come to mind! What a visual threat – it's pure TV magic.
If you're not a lover of pop opera then this won't be for you, but many will appreciate this offering – as Kate has a good vocal range. This is the sort of act that Graham Norton would call "pure Eurovision".

It's amazing that Kate and her accompanying 'spirits' are able to sing and perform suspended on long rods… (stop those evil thoughts right now!). Despite it's fun up-tempo techno-sound, the song has a serious message about struggling with depression. Well, after watching this act, your spirits will be uplifted!
Now, next is the real reason why I'm here – to see Iceland perform! Hatari 'sing' Hatrio Man Sigra. And how. Here's a act to appeal to your basic instincts – good and evil – or something like that. Not really sure what it's about – possibly anti-establishment – which would be a bit strange as they all come from well-established backgrounds.
Anyway, expect lots of bondage, demonic and angelic chantings, plus a bit of sad-masocism, cages, spikes, slaves, pyros, smoke, leather, posing, marching, gloves, boots, thigh straps, corsets, But it's all tastefully done without the need for nudity. But I still need a drink..

But ignoring the visual 'treat', the tune itself is very interesting. It's got a great techno-beat background. It's the sort of things you would hear in dingy nightclubs in the 1980s – apparently.

Anyway, this has the potential to either flop at the semi-final stage or go and win the whole thing! Obviously we all want the UK to win, but then again, let's just say… ICELAND TO WIN!!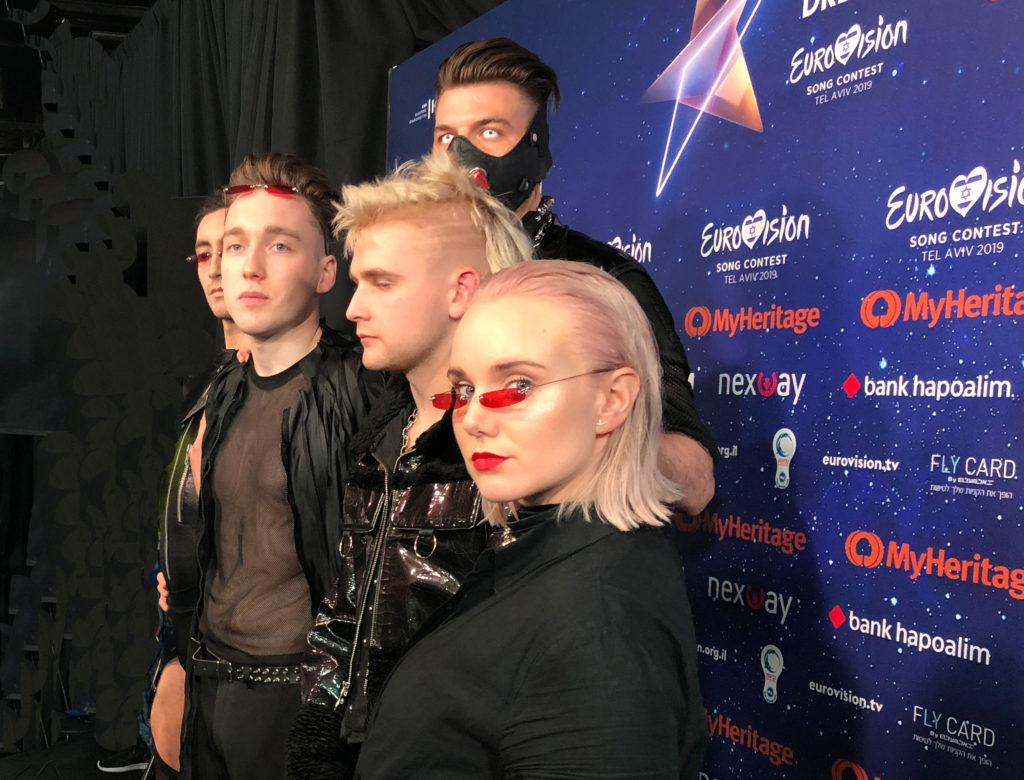 Let's calm down now with Estonia where Victor Crone performs Storm. Victor is actually Swedish – they get everywhere (by 2030 everything will be written and performed by Swedes) – and why not.
Victor, at this first rehearsal is performing in front of green screen – obviously some super-duper background will be added later. Just shows you how magnificent technology is.

Anyway, let's hope Vic has more luck with his version of Storm then we did!

The final run-through now has the graphics. Not bad, but I get a feeling they may actually add some TV special effects for the live show, otherwise it might miss out on the Grand Final. He performs the song well and the effects are up there, but it's going to need a special hook.
And talking about a special hook – here's Portugal! Conan Osiris (and his bear-chested prancer, sorry, dancer) perform, and we mean perform, Telemoveis. Those lucky Semi-final 1 viewers are being spoilt this year with so much 'originality'. This really is a unique act by the green-clad Conan.

The act has the feel of the orient about it – but it's as camp as hell. The lyrics suggest it's something to do with killing and mobile phones. The Portuguese loved to at their national final, so maybe they see something in it that others don't? Is it serious? Is it modern? Is it art? Are they pulling our legs? Is it bonkers? Who cares! Just sit back with a stiff drink and appreciate the goodness and weirdness that is Eurovision. But does it belong in the Grand Final? Not 'alf.
Next up with have a dazzling display of colour with Greece. Katherine Duska sings Better Love. And this act is indeed lovely. On stage we have a rather lovely garden display. Katherine looks lovely in a rather colorful outfit in lovely silver and white. Her backing singers are dressed in lovely yellow chiffon looking like lovely butterflies, and we also have two lovely swordswomen in lovely pink. And among all this we have a lovely large balloon. Not sure why, but it all adds to the loveliness of it all. This isn't just lovely – it's LOVELY!

In all seriousness this ia a rather classy act – and Katherine has one of best vocals in the contest – a lovely (sorry) Amy Whitehouse twang. The song itself is very up-tempo with a very infectious chorus.
They missed out last year getting through to the Grand Final, hopefully it won't happen with this entry.
The last performance of the day is from San Marino. That old Turkish crooner, Serhat, is back again with my very guilty pleasure, Say Na Na Na. It's pure 1980s disco-cheese. There's nothing serious about it. It's just pure fun with an up-tempo beat. They'll be dancing to this for decades to come!

Serhat is dressed all in white as are his two male dancers and three female vocalists.

It's difficult to see this impressing any juries, but the fans love and appreciate it. It may be a throwback to yesterday's Eurovision, but the contest has always been fluid.
It certainly is a excellent way to end the show – and to celebrate the tenth anniversary of San Marino's participation in the world's best music show! You'll also get a chance to count up to three in Turkish.
Na, Na, Na? Yes, Yes, Yes!!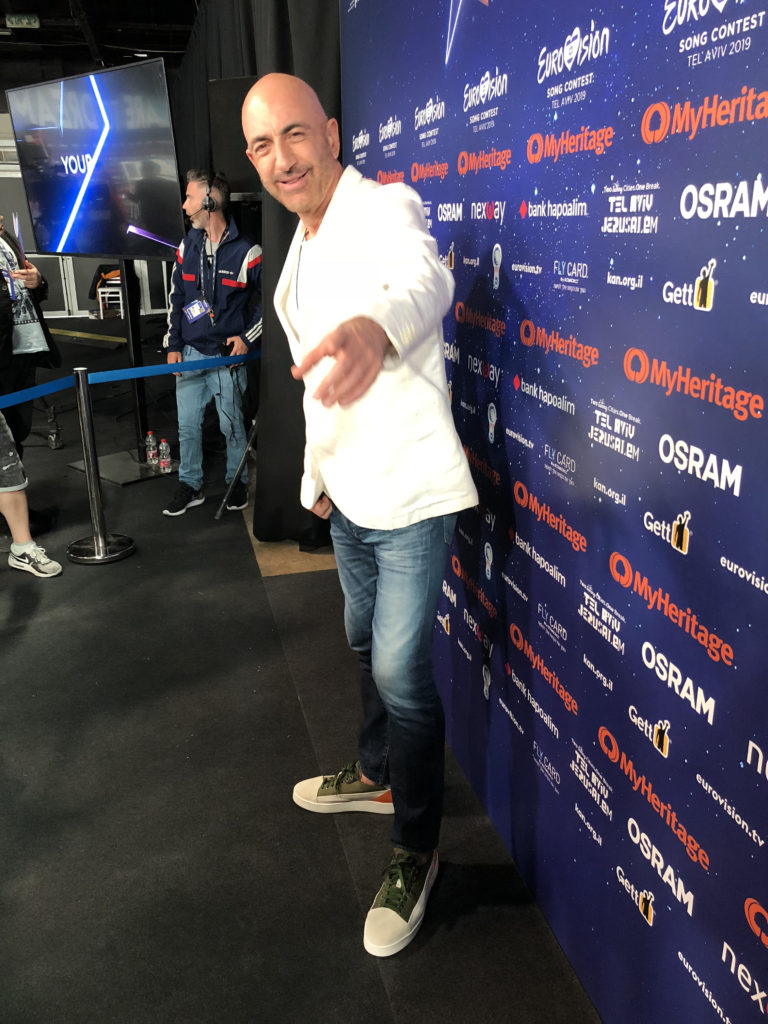 And that's it for today. Tomorrow there will be reports on a few press conferences plus the first half of closed rehearsals for Semi-Final 2 – Armenia, Ireland, Moldova, Switzerland, Latvia, Romania, Denmark, Sweden and Austria.
There should also be a filmed interview with Greece's singer as well.