Vision magazine editor Hass Yusuf writes the words and assistant editor David Ransted supplies the photos.
I'm getting nice comments about this blog. Thank you to everyone commenting.
It's a late morning opening today at the press centre. All that is happening today is the first dress rehearsal for Semi-Final One, followed by the Jury Final for Semi-Final One. It's this Jury Final that is vital for the performers as the juries will be voting on their performance. The televising will be at the Semi-Final One Final tomorrow night. Let;s hope these juries don't let jealousy or their prejudices effect their judgment. But of course it will. I remember in the 1970-90s how much their prejudices played a big part in their votes. And half of them were clearing tone-deaf. My personal feeling is that the whole jury system should be scrapped. Let the public decide everything. But maybe the new system of voting in the Grand Final may produce a result that more reflective of the public mood. (Last year Italy won the public vote, but the jury votes put Sweden first.)
But anyway, many will disagree with me and insist that the jury/televoting method is the best way to produce a fairer result.
Last night was the official Opening Party with all the performers getting the Red Carpet treatment. We didn't attend that (seen them all up close for the past week), but did go along to the Euroclub later. It's a was a fab night full of great Euro music and performances.
Simon Bennet, OGAE UK's Treasurer & Secretary (and President of OGAE International) was at the Red Carpet event and took some pics. Here's a selection of them.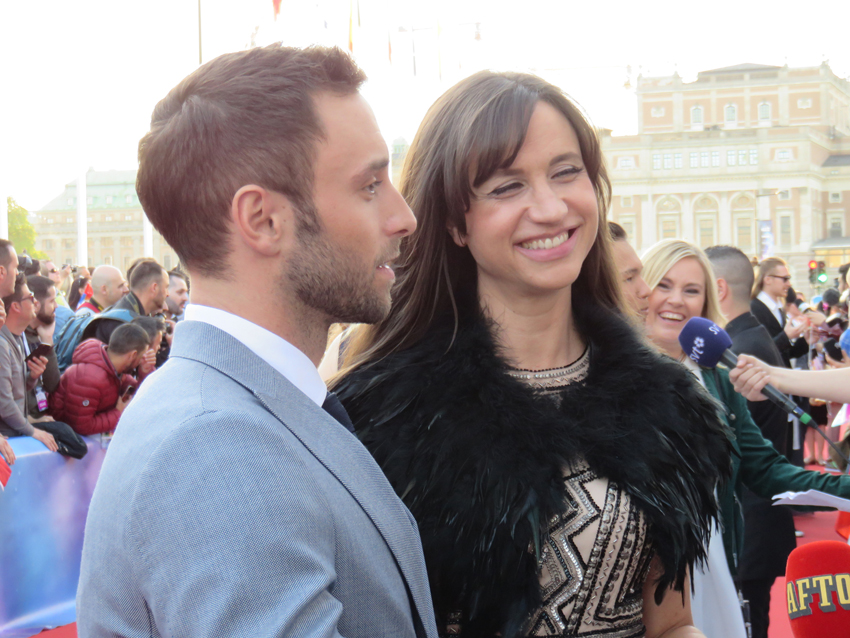 OGAE UK President Alasdair Rendall also managed to grab a few words with our representatives, Joe & Jake:
Let's chat about the orgainsation of the show here in Stockholm. The press centre has been half empty for most of he week, but will be heaving once the three live shows start and all the national media come along. Everything seems to be running on time, with very few delays.
All the volunteers here are very helpful and there is lot of them. And they all speak English. Actually everyone speaks English – how very civilized!
Security is tight. The Wi-Fi works well.
The restaurant food is awful, but we get free tea and coffee, plus a little cake treat every day.
Stockholm itself is a great city. You can walk to most places of interest and their metro system is excellent with very, very few delays. If only London Transport were like this! But of course London is a much bigger city. The food in some restaurants is excellent, while in one major pizza chain the offering was dire to say the least.
But for something more tasteful, here are some of David's pic from yesterday's rehearsals. Bit of a problem downing the images of Joe & Jake, but you'll get those tomorrow.
Let's finish off with short reviews of the remaining press conferences that I attended yesterday.
Ukraine: Jamala looked quite intense – she obviously believes in her craft. For her the day was full of emotion – but she tries to rein in her emotions otherwise she won't be able to sing. Apparently she was second in the bookies, but says she is completely ignoring that. It's not important to her. She says be yourself and find your roots. Respect your family, history and culture. Jamala's great-grandmother was caught up in the evictions from the Crimea in 1944. She got the press to vote on what outfit she should wear – the black outfit from the first rehearsal or the blue one from the second. She was happy that the blue outfit was a clear winner. We're all secret fashiionista's y'know.
Albania: Eneda looked stunning as usual. When she goes on the Eurovision stage she gets good memories that inspires the story of her song. She sings the song in English to offer a wider appeal – as do most countries. When asked if her other role in Albania as a TV presenter will help her at Eurovision, she said nobody really cares about that – it's the performance at Eurovision that counts.
Belgium: Young Laura was most happy with her second rehearsal, that they didn't bother do a third run-through. All the delegation were happy with her performance. When asked why her backing singers and dancers are from the Netherlands she replied that Belgium hasn't got a set-up that trains singer/dancers, which isn't the case in the Netherlands. She says her Italian heritage temperament helps with her performance. She is totally excited and is looking forward to getting back on the stage.
There's a function tonight at the British Ambassadors Residence, which we will try to go to. Pics from that tomorrow.
And of course – our predictions! It's going to be much harder than usual this year. Back tomorrow.