Check this page regularly as this is where we will post member-specific updates (as opposed to general Eurovision news), to accompany notifications via email and Cardskipper.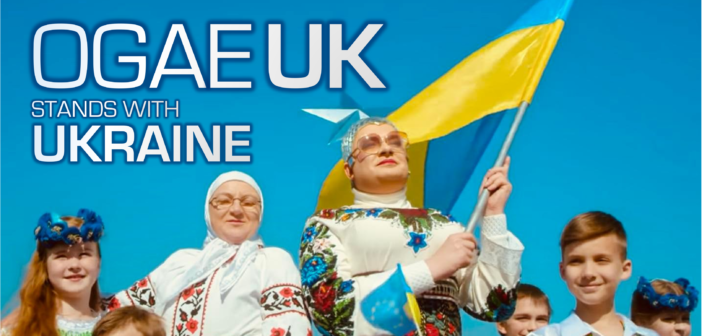 OGAE UK stands with Ukraine
I want to say how heartbreaking the situation taking place in Ukraine is. Many of us will have enjoyed the contest taking place in Kyiv in 2005 and 2017, and many of us will have made friends through our love of Eurovision who will now be involved with this conflict.
Our thoughts and prayers first and foremost go out to Ukraine and our friends in

OGAE Ukraine • Офіційний фан-клуб Євробачення в Україні

and we hope they and their families stay safe. We support those who are fighting against this action, whether that be Ukrainian citizens on the front line, Russian citizens and artists who face serious consequences by speaking out against the regime in power or the millions across the globe shocked that such aggression against a free country could take place in Europe in 2022.
This is a time where the apolitical nature of the contest is unable to remain when actions against humanity are taking place involving countries taking part in the contest and we hope the EBU continue to listen to broadcasters and fans speaking out. Let us support Ukraine in any way we are able and willing to and links to organisations shared by OGAE Ukraine can be found here: https://linktr.ee/razomforukraine
I hope you all find time to enjoy Eurovision in these difficult times. The joy that the contest can bring is needed now more than ever. 40 years ago, Nicole won the contest for Germany in Harrogate with Ein Bißchen Frieden – A Little Peace. Let us hope Peace returns to Europe soon. Slava Ukraini   
OGAE Song Contest 2021
As you will no doubt be aware, OGAE UK is excited to be hosting this year's OGAE Song Contest, for the third year in a row. 29 songs are battling it out for the win – with OGAE UK represented by Joel Corry & MNEK's Head and Heart. Voting is currently underway and a voting link has been sent to all members via the automated SurveyMonkey system. Voting closes at 23:59 on Sunday 26th September. For more information about all the songs taking part, visit our dedicated microsite here. 
AGM 2021
The new committee including our newly elected President Vaughan will take office at this year's AGM which takes place on Saturday 20 November from 3:30pm. The AGM will also be an opportunity to hear the annual reports from the outgoing committee and ask any questions you may have about the club. This year we move to a brand new venue – The Hercules pub just a five minutes' walk from London's Waterloo station (appropriately enough in the year of ABBA's return!) and right across the road from Lambeth North tube station. More details will  be provided nearer the time.
Election – nominations open
Nominations for the OGAE UK elections are now open. They will close at 5pm, Thursday 23rd September. All members have been sent details of the positions, and the nomination and election process via email. All committee positions may be contested, whether or not the current incumbent is standing.
For questions about the election process, please email ogaeukelection@yahoo.co.uk 
Notice of election
Statement from Tom Hughes – Election co-ordinator for the OGAE UK elections 2021
In accordance with article 5 of OGAE UK's constitution, I hereby give notice that there will be elections for the OGAE UK Committee starting on 1 October 2021.  All individuals who were paid up members as at midnight last night (30th June 2021) will be eligible to vote in these elections.
The Committee has appointed me to act as the independent election co-ordinator.
Details of the positions to be elected, the nomination and election processes, and the full election timeline will be sent to all members in early August.  
OGAE Song Contest – UK Heat
The OGAE Song Contest 2021 is fast approaching, and the time has come to choose the UK's representative!
The OGAE Song Contest, running since 1986, celebrates non-Eurovision songs from across the OGAE network. Whilst the UK's performance in Eurovision in recent years has been underwhelming, in the OGAE Song Contest we are a powerhouse, having won seven times, including the past THREE contests.
This year the "host" city (it's an online event) is the Welsh capital of Cardiff, following in the footsteps of London 2019 and Edinburgh 2020.
The time has now come to choose the song to follow in the footsteps of Steps, Lewis Capaldi and Dua Lipa.
We have 37 songs in the running, which really shows the diversity of the UK music scene. You'll find a YouTube playlist here and a Spotify playlist below.
To vote, please send in your votes, Eurovision style (1-8, 10, 12) to this email address. Please note that voting is ONLY open to OGAE UK members.
OGAE Second Chance 2021
The first of this year's three OGAE contests, the OGAE Second Chance Contest 2021 is now open!
The OGAE Second Chance Contest (SCC) is organised by OGAE to give a "second chance" to songs which were part of a national public selection process for the Eurovision Song Contest (ESC) that involved at least two songs, but which failed to be selected to represent their country. The main purpose of the OGAE SCC is to promote the music, performers, authors of music and lyrics from these national selections.
This year's contest is being hosted by OGAE Sweden, following Anna Bergendahl's victory in 2020 with Kingdom Come. With many countries opting to hold internal selections this year, only 14 countries are taking part, nevertheless it is another strong line-up, showcasing the depth of talent that many national finals had this year.
As the UK is one of those countries that didn't hold a national final, OGAE UK has no participant in this year's Second Chance Contest, nevertheless we are still able to vote as a guest jury.
Members can now vote here – award each song from 1 to 10 points and provide your name and membership number towards the UK Jury's ESC-style top 10. Please note that voting is restricted to current OGAE UK members.
A playlist of the songs is available here. 
Good luck to all the participants!
Rotterdam round-up and daily Zoom call
Even though the vast majority of us won't be in Rotterdam we'll still, as usual be providing a flavour of what's going on in the build-up to this year's contest.
Once again, we'll be providing a daily blog with all the latest on rehearsals, press conferences and any other behind the scenes news, with a particular focus on preparations in the UK camp. You can find all the latest from our Rotterdam blog here: https://ogae.uk/category/rotterdam-blog-2021-2/
We're also trying something different this year. We know how much Zoom has become part of our lives – for better or worse – so we're planning to do a daily video update via Zoom at 6pm every evening, where the team will give an update on the day's goings on. You can join using the following details (same link every day):
Meeting ID: 818 4271 8519
Passcode: 272699
Valentine's Day charity Quiz
OGAE UK member Sam Rabey is organising a charity quiz for Shelter, on Sunday 14th February. The quiz is just £3 a ticket and has everything from a picture round, to a TV round, and of course a music round. Get your tickets here.
Ticket Update & Rotterdam 2021
As yet, we have no news on what will happen with tickets for Eurovision 2021. Members will be aware that the EBU and the host broadcaster are looking at a range of scenarios. OGAE UK is in constant touch with OGAE International which liaises with the EBU on behalf of all the club.
As soon as information is available we will ensure all Members are told – thank you for your patience, and we hope you and yours are staying safe in these difficult times.
OGAE UK Lockdown Quizzes
As we are all staying at home for the forseeable future, we have brought back the OGAE UK lockdown quizzes. These take place every Thursday from 8pm via Zoom.
It's the same Zoom details every week:
Meeting ID: 854 5070 5346

Passcode: 783269