Greetings from Tel Aviv! Your OGAE UK team of Hass Yusuf (reporting), Danny Lynch (social media, photos and additional reporting) and Robin Scott (photos and techno stuff) are here for the whole duration. We'll attempt to keep you updated as things progress, add in photos throughout the day, etc. But before all that: DISCLAIMER: Most of this blog is being produced 'live', so the occasional typo or mistake may happen!
Before rehearsals start, let see what occurred in some of yesterday's press conferences (Meet & Greets) that I could get to. Too many things are overlapping now.
BELGIUM: Eliot, Wake Up
The youngster was amazed at the great staging – but he expected improvements with his second rehearsals. As the title of his song suggests, he wants the youth and next generation of the world to wake up and try to try to achieve peace. He wants hope and ambitions! He regards his message as 'cool' and wants the world to act together.
Eliot first came to fame on The Voice Belgium, which was great experience, but Eurovision to him is a step up.

For him Eurovision suggests diversity, unity and friendship. That certainly fits in with this year's motto, Dare To Dream.

ICELAND: Hatari, Hatrið Mun Sigra 
Just caught a bit of this, but the group seemed more chatty than their usual dire persona. They do try to give a sense of anti-establishment, but in reality they all have families and kids – and they do come from well-to-do backgrounds. But nevertheless they believe in anti-capitalism and a doomsday scenario – hence Hate Will Prevail! Oh dear.

Anyway, they said everything is going to plan – they liked the way the pyros were working – the visuals were great and very optimistic.

The group think of themselves an art form with their outfits, performance and attitude – and consider BDSM to be very liberating.

When asked what they wore in bed, it was the same as their daywear, black leather and such. Probably too much information.
Personally, if the UK can't win this year, I want it to be Iceland.

GREECE: Katerine Duska, Better Love
Katerine thought her first rehearsal went well. Everything seemed to come together – but will still need to work on a few things, such as lighting.
Katerine is actually from Canada, but feels very connected to her Greek roots. Both of her cultures have helped to shape her outlook on life. Even though she writes all of her music in English, her ambition is is write a song in Greek. She feels that Greece has a special rhythm about it.
She has been described as a 'Amy Winehouse' inspired performer – but that doesn't bother her – in fact it's an honour – and the market is big enough to appeal for all tastes, similar or not.
In the five months of her Eurovision experience she's gained a year's experience.
She loves a lot of the songs this year and would like to duet with Duncan from the Netherlands to sing Arcade with him.
SAN MARINO: Serhat, Say Na Na Na.
Another person who had his first big break as a performer in Greece is the Turk Serhat. He was honored to be asked to represent the country again (he felt his mission for Eurovision wasn't over yet) – but only if he had the right song. So he wrote it himself – in about ten minutes.
He thought the technical crew in Tel Aviv have done a great job. He thought the first rehearsal was fine, but improvements need to be made during the next rehearsals.

He's got an international team of singers and dancers with him – most of them from Germany.

He originally trained as an dentist, but he got a calling for show business instead. He's only produced one album so far because he is very picky about his songs. And he just wants to work on happy songs.
He says we need to relax more and be happy – and he never takes himself seriously. No one needs to be a Superman or an Iron Man – real people are the heroes. You just have to trust in yourself.
Time for the first rehearsals for the first half of Semi-Final 2 now. As with all these first rehearsals, it's a closed set so we can only watch the performances in screens in the press hall.
Armenia are first up this morning with Srbuk performing Walking Out. She's a good performer – and really belts out the song – but that's about it really. She's dressed in black – and thigh boots (which are very in this year), and walks around and… that's it. Her background graphics are decent enough, as is this rock number. There doesn't seem to be a hook to make it memorable – and you definitely need to stand out this year to get anywhere – and a bit of dry-ice mist isn't going to help. Probably not the best choice to start of this semi.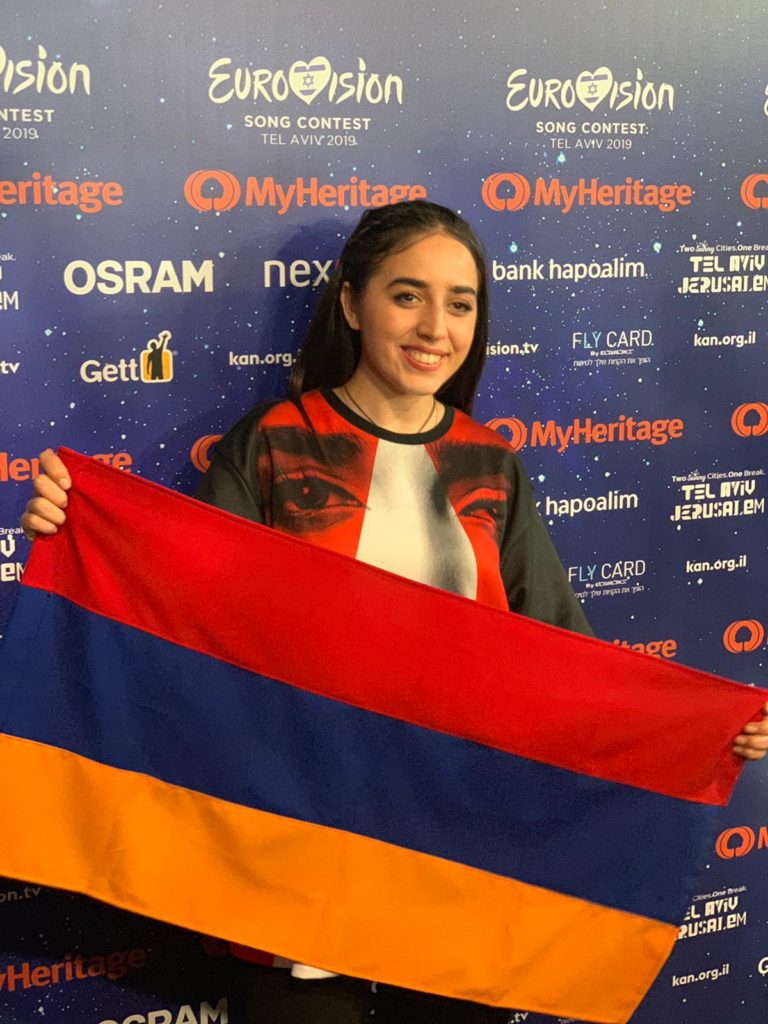 Ireland are on next with Sarah McTernan singing 22. Comic book panels are the main graphic backdrop here – with Sarah looking good in 2-D as in real life. This is a bright and lively performance – of a somewhat old-fashioned up-tempo number.
The Sixties diner styling really works well – and all the colour generated will make this act memorable. It certainly would've made a bigger impact if it was the opening act.
The trouble, however, with these 'sweet' songs is that they may be missed among the frenzy of other OTT acts. But fingers crossed for our nearest neighbors.
Latvia are on next (swapped with Moldova) in the schedule. Carousel perform That Night, a somewhat charming and folksy contribution. Now if today's Eurovision Song Contest was just the song, all the entries today would do okay – but it's really turned into a show that has to dazzle with effects and such. Unless you've got something really special, like Jamala or Salvador, that somehow captured the imagination, you need a special hook to get noticed. And it really doesn't happen here.

Carousel are probably great performing at concerts, but alas they may just get forgotten here. The musicians, by their very nature, perform in static positions and all the emphasis is on the lead female vocalist.
Ah-ha – time for Switzerland – a firm fan favourite. Luca Hanni really performs She Got Me. The country is finally back again with a sure bet. This semi has finally woken up! She Got Me is a lively up-tempo electro- dance number. Luca is dressed in black and is joined on stage by four singer/dancers, all dressed in red – who sometimes nearly merge into the striking red-coloured graphics. Everything here is in black and red and is very effective.
This act should easily qualify for the Grand Final and achieve a Top Ten position at the very least. Luca seems to have an engaging personality which all helps.
Next we have an act who appreciates the fact that you need to do something special – Moldova. Anna Odobescu performs Stay.
To, literally, illustrate the story, Anna is joined on stage by a brilliant sand artist. While she draws in her sand tray, the images are projected onto the big screen (of course it may be recorded). Yes, we've had this before from Ukraine some years back, but this is more ambitious.

Anna herself helps the act along by a very dramatic performance of her power ballad, Stay. She's wearing a striking white outfit which could double as a bridle gown – probably on purpose to get the message of the song across.
This is a simple concept excellently done – which means the performance will be remembered regardless of the song. You have to be brutal sometimes to get through to the Grand Final. Well done Moldova – it may get you progress!
Luckily the next act won't actually perform after Moldova on the night, because you might get the songs slightly confused – as, yes, it's time for Romania. Ester Peony performs On A Sunday. The song is another rock mid-tempo number involving a red chair, two male dancers wearing unusual waist coats, a guitarist, two female vocalists – the full complement.
This moody entry has a gothic feel to it – along with ruins, bats, rain, dark forests and hell-fire (with pyros). And Ester herself looks stunning in black. She's got a great voice and knows how to deliver the song. Personally I've no desire to hear it again, but the performance is worthy of getting through to the Grand Final.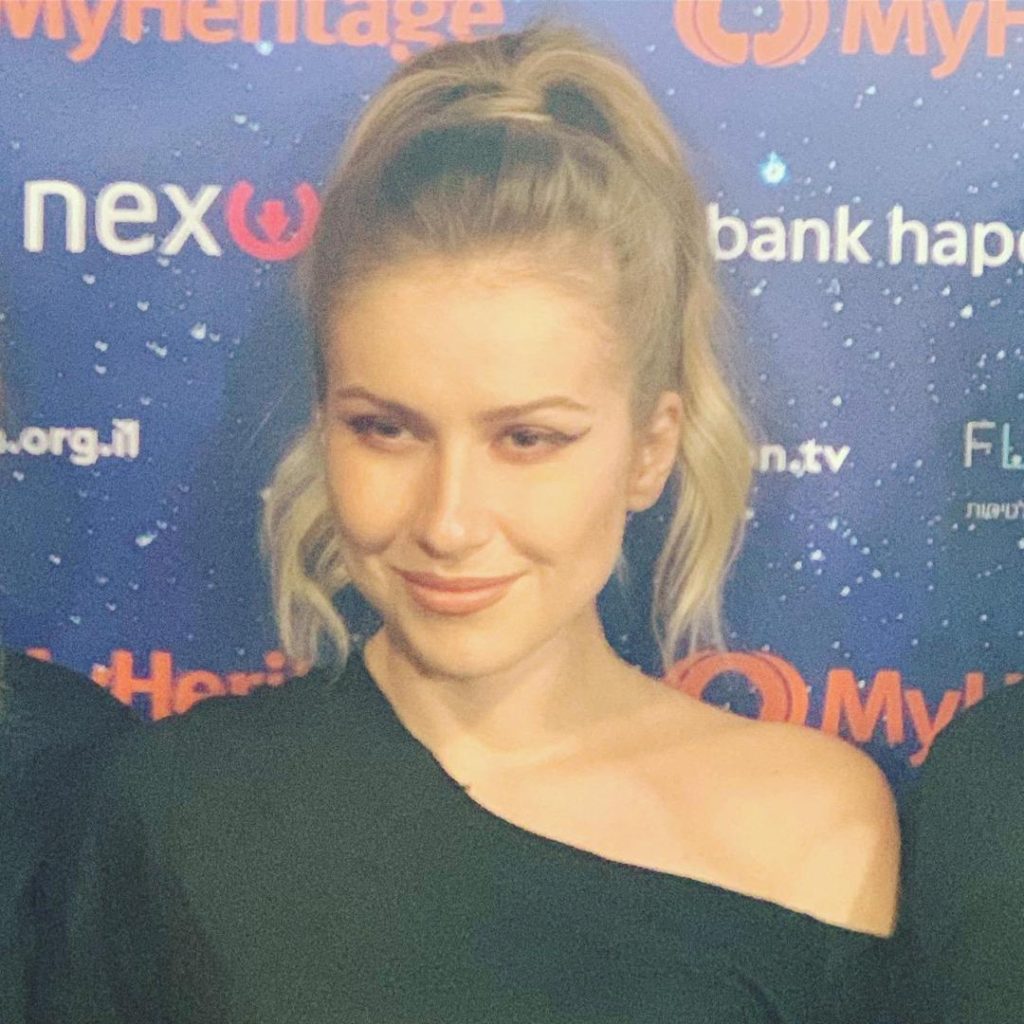 Next we have Denmark where Leonora will be performing Love Is Forever. The Danes have gone for a big prop to accompany this infectious bouncy up-tempo love song – a chair!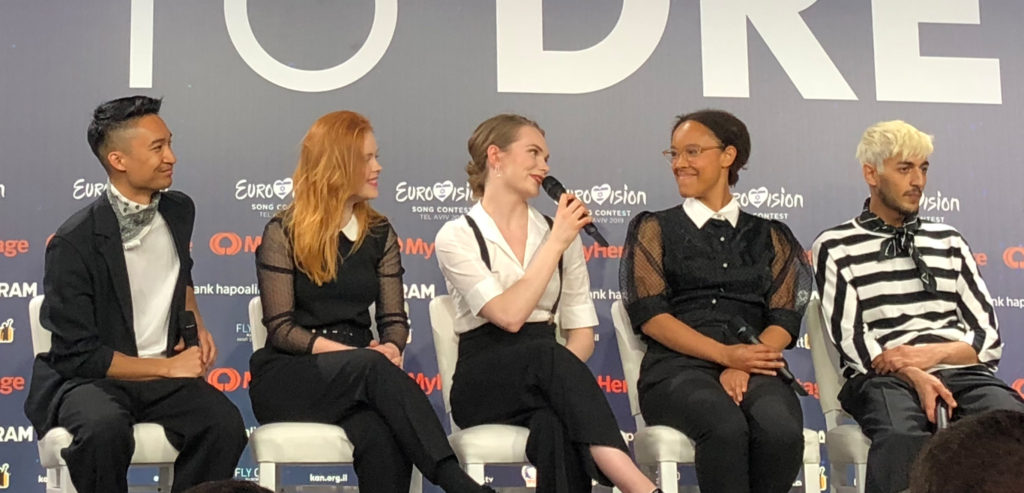 Leonora climbs up a ladder to join two girlfriends, and soon after two boys come along to spoil the gang but all they do is sit there and dangle their legs. But they all sing along happily sitting on their chair watching the world go by. Luckily it's summer.
This engaging song should get through to the Grand Final without too much bother.

Austria is on next (swapping with Sweden for these rehearsals). PAENDA, she of the blue rinse, is performing Limits. This is a rather soulful performance – full of emotion and angst.
PEANDA stands on a raised platform and just sings. And to get into the mood of the song, she appears in black and white before we her blue hair and beautiful green eyes. The whole effect is rather eerie, but very engaging.

Its uniqueness will probably help it to get into the Grand Final – which it deserves to be.
And finally today, we have another favourite, Sweden where John Lundvik will be performing Too Late For Love. John, of course, co-wrote our entry (Bigger Than Us for Michael Rice).
This is rather a classy act. John basically stand in on golden road and is soon joined by a four female gospel singers. And that's all this act needs – a natural soulful performance.
It all starts off quite dark, but soon brightens up when the ladies enter on stage and give it more oomph (they deserve their own entry)! It's a natural to qualify for the Grand Final – the juries will love it.
And that's it today. We may not be able to report on the rehearsals tomorrow – and on Wednesday the whole country and Eurovision shuts down for Memorial Day. But we will still post up material.