OGAE UK was invited to a fact-finding mission organised by the British Council and British Embassy in Kyiv, with support from the GREAT Britain campaign.
REPORT BY MONTY MONCRIEFF
It's Wednesday morning, it's 4.30am, early March, and I have the most painful symptoms of a stomach infection. But I'm awake, and I'm en route to Heathrow heading to Kyiv. It's still two months before the contest but I've been invited on a pre-Eurovision visit hosted by The British Council representing OGAE UK. The grey of London is matched by the grey murk of Borispol International Airport as we land in a misty Ukraine and start making our way into Kyiv through the former industrial outskirts of a city hoping to rebrand itself through our favourite television show.
We've been invited – OGAE UK and some LGBT media outlets – as the Council and the UK Embassy in Ukraine are acutely aware that the biggest travelling fan contingent is British, and that many of our fans are from the LGBT community. Both the UK and Ukrainian authorities want to make sure Eurovision is a fun and safe event for travelling fans, and the UK's representatives in Ukraine are taking this task seriously. They know that some fans are cautious, wary of travelling to a country they know little about but hear plenty of.
I'm personally so excited I'm fit to burst. Although I'm already going to Kyiv in May the chance to get in an early preview ticks all my boxes. I have an enormous interest in the former Soviet nations having lived in the Soviet Union as a student. Back then in 1991-1992 my winter was spent in Voronezh, a university town about 500 km south of Moscow. The USSR disbanded around me (though I can't be held to blame, it wasn't my fault, honest guv!) as we experienced a time of unprecedented political, economic and social change. As a 21 year old it had a great impact on my values and shaped the way I see the world. Now, some 25 years later, I get to see how one of its constituent Republics is faring first hand during my first ever trip to Ukraine.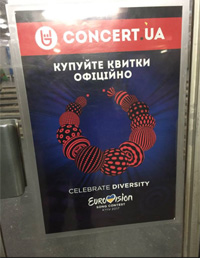 I can understand some of the fear UK fans might have. In the USSR there was a sense that things worked just that little bit differently to what I was used to, but there was also a terrific sense of adventure, and the sense that whatever unlikely situation you might find yourself in, you always found an equally unlikely – but successful – solution to it. This is the overriding impression I'm given by almost everyone I meet, along with an acceptance that the Ukrainian way is for everything to feel like it's being left to the last minute, but finally comes together successfully in the end. You'd be hard-pushed to find many to disagree that this is how this year's Eurovision feels. To the Brits we meet in Kyiv you can tell that the concept of not planning too far ahead is wearily alien, yet they all speak endearingly and enthusiastically of life in this vibrant city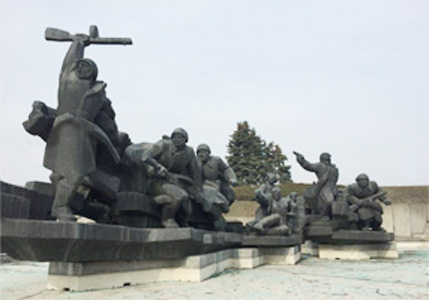 It's easy to read Ukraine superficially given the headlines we see in western Europe. It's not a country we've ever learned much about. For so much of its recent history it's lived in the shadow of Russia, who dominated our understanding of the USSR. More recently the coverage has been dominated by civil unrest, revolution and Russia's influence again. This is still a country at war with her neighbour, though the conflict is many miles away from Kyiv in the east. I was interested to find out more, and would encourage those travelling to read a little of the current situation ahead of your visit.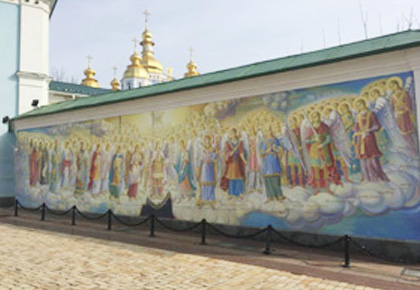 The Maidan Revolution is fresh in the mind, and seems to have been the driver for so much important change. The uprising against a corrupt and pro-Russian government has strengthened Ukraine's civil society and helped groups of citizens to organise in a more structured and meaningful way to take on activism and campaigning, and helped forward a pro-European sentiment in much of the country. Although the east of the country is more pro-Russian, and specifically pro the conservatism and so-called traditional values of Putin, many in Kyiv – particularly the younger generation – want the country to progress towards the model of tolerance and liberal social values we enjoy in the west.
Kyiv has an emerging creative scene, in fashion, the arts, music and technology. We visited a touring exhibition by Greyson Perry housed in a shared creative block of artists who transferred their base to Kyiv from Donetsk as Russian fighting took hold. There's a burgeoning sense of both optimism and opportunity along with the energy all next generations bring, particularly one which has lived all its life in a post-Soviet era.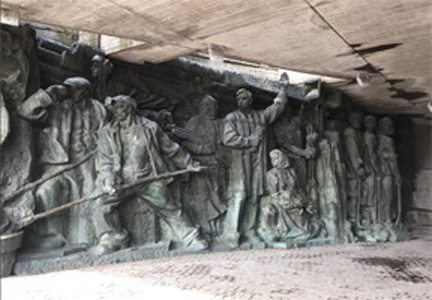 We met too with local LGBT activists, organisers of the Kyiv Pride march and accompanying cultural festival, the LGBT programme of the Kyiv film festival, and other campaigning and support groups. I was struck by their enthusiasm, fighting in an environment that remains at times hostile but which is clearly changing at some pace. Last year was the first that city authorities fully backed a march for equality in the city centre, and while small in scale it significantly was policed in favour of participants and without incident, and gained support of local residents and favourable media coverage.
This might sound like baby steps but this is still a country where many platforms to discuss LGBT issues are lacking. Activists told us more and more people are supportive of LGBT issues but lack the knowledge of how to discuss them. This felt obvious in our meetings with city officials who are keen to promote hosting Eurovision as an event for all, but not yet conscious that many LGBT travellers seek specific assurance that they will be safe and welcome.
This is not lost to the UK embassy though, and during a breakfast reception the UK's Ambassador to Ukraine told us about her experiences as an openly lesbian woman living in Kyiv with her partner and family, which have been overwhelmingly positive. The embassy knows that all guests from the UK will be seeking information to ensure their visit is safe so they have provided sone advice. Please go to this link:
www.gov.uk/government/world-location-news/travel-advice-on-eurovision-2017-in-ukraine
Extra staff will be on hand to ensure that anyone requiring their support will get it. I was struck by how excited the Ambassador is – herself a Eurovision fan – to be personally involved with preparations with other diplomatic colleagues from across Europe.
But there is, of course, a darker side that all travellers need to be mindful of. As in many countries (the UK included) far-right and nationalist groups do pose a small but serious problem. Small outbreaks of violence have been known, some targeting LGBT groups, but many indiscriminate, aimed at any groups not sharing these thugs' values. This should however be kept very much in perspective, as we experienced similar fears emanating from Belgrade, Baku, and Moscow ahead of the contest. All of these passed without major incidents, and the city authorities will be working hard to ensure that security is effective. Any seasoned traveller will remind you we always need to apply common sense and be mindful of local situations when we visit new countries.
Eurovision feels like a huge opportunity for a country that is young in its independence, but clearer about its future and identity than when they first hosted in 2005. Everyone agrees that second time round it's even more important and there's even more at stake. It's not surprising that the Ukrainians will want to present a new image of their country to the world, and I genuinely feel that despite the many teething problems we've had reported fans who take the opportunity to visit for the contest will sense this and be pleasantly surprised.
As I prepared to leave Kyiv for now I was left with the sense that its residents and authorities are looking forward to welcoming us all in May, and ready to offer us a taste of Ukrainian hospitality. My first visit hasn't disappointed, and I can't wait to get back and explore the city some more.
INFORMATION ON KYIV BY DANNY LYNCH
Many of you will be travelling to Kyiv for this year's Eurovision in May, most of you for the very first time. We've put together a handy little guide to help you during your stay.
Kyiv is the capital of Ukraine is two hours ahead of the UK. Flights from London take approximately three hours, 15 minutes and fly to Borispol Airport directly from Heathrow with British Airways and from Gatwick with Ukraine International Airlines. If you're flying from a regional airport, there are connections in many European cites. Upon arrival, the easiest way to get from the airport to Kyiv City Centre is by bus, which takes 30 Minutes and costs £3.00. You can buy bus tickets from the ticket machine in the arrivals hall.
Currency The currency of Ukraine is Hryvnia (UAH). The exchange rate as of March 2017 was approximately 33 UAH. The Hryvnia is not a hard currency – which means that you cannot purchase it in advance of travelling to the country and it cannot be exchanged back into pounds, so make sure you spend it all before you get home. There are many ATMs around the city and the majority of shops and restaurants take credit cards too. There are also a number of foreign exchange shops where you can exchange cash, but make sure you take your passport with you!
Food and drink Prices are generally considerably cheaper than in the UK, but can vary depending on the type of venue. In an average restaurant, expect to pay £20 for a two-course meal and wine. There are plenty of restaurants all over the city and cover many different cuisines from traditional Ukrainian, to Italian, Chinese and Georgian.
In bars, a bottle of beer costs around £2.00 and a spirit and mixer around £3.00. Be careful though as the standard measure is 50ml, which is a UK double, if you ask for a large drink you will get 100ml!
Transport Getting around Kyiv is very easy as the city is served by a reliable Metro service, and there are also buses and trams. The Eurovision venue, the International Exhibition Centre, is on the south side of the river Dnipro, and the nearest Metro station is Livoberezhna (124) on the red line, which is about five minutes walk from the venue. A trip on the Metro from the city centre will take about 15 minutes and a single journey costs 3 UAH (15p). You can buy tokens for the Metro at every station, and can also buy a top-up card that is used like an Oyster card. The Metro runs until midnight, but there are plans to extend this during Eurovision week.
The official party venue, EuroClub, held at Parkovy Business Center will be open from 1st May only for delegations and accredited press and fans with official Eurovision accreditation. There are plans afoot for venues that OGAE members can gain access to, so keep an eye out on our website and Facebook group for more information regarding this nearer to the time. Of course, there are many bars and restaurants around the city if you fancy something a bit different away from the Eurovision bubble.
On 4th of May 2017 in Kiev will open Euro Village that stretches along Khreshchatyk from Bogdan Khmelnitsky Street to Proreznaya Street. This is right in the middle of Kyiv city centre and will feature live performances from Eurovision artists, and the city administration have also planned five entertainment venues in various squares around the city. Entrance to all of these is free and is open to everyone.
Enjoy your time in Kyiv!