After the festivities of Independence Day it's back to work today, as the second set of rehearsals get underway, starting with those in semi final 1. Reporting comes from OGAE UK's team in Tel Aviv, Danny Lynch (writing from the press centre) and Robin Scott (photos from the arena), with Hassan Yusuf rejoining us later today.
First up today is Tamta and we can finally hear her. Visually, this is still very tight and slick and there are some really great special effects on screen – there's some slow motion at the start, and when she sings 'Replay' there's a looping effect. Vocally, she hit a bum note on the first run through but on the second one, she managed to get it. Overall, this is a very professional – if expensive – performance and the Cypriot delegation should be happy with that. Absolutely no doubt that this is qualifying and it has a great chance of making the top 10 in the final.
Next up is Montenegro. They look lovely dressed in white with a scarf in the Montenegrin colours. Vocally, this is a marked improvement on their first rehearsal, There are some changes in the choreography, and they move around the stage more cohesively, but there's a bit at the end where they go under and over each other like a maypole and it looks a bit messy. I'm not sure that this works, but it is probably too late in the day to change it. Overall, they should be pretty happy with that rehearsal, but I don't think it's going to be good enough to save it from non-qualification.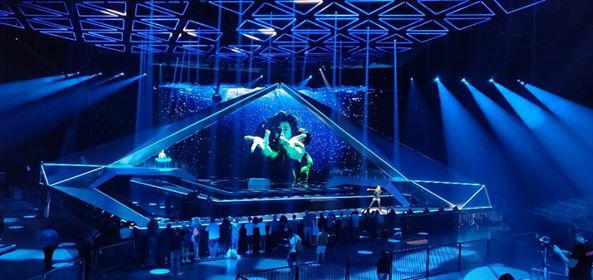 Finland are next and not much has changed from their first rehearsal. Sebastian's vocals are still sounding a little strained, and his rather odd leather/denim trousers aren't really doing it for me. I find it very strange that there is barely any focus on Darude in the performance when he is the big name. To think how excited many people were when he was announced as this year's Eurovision act, I can't help but be rather disappointed by the whole package. I can't see this in the shake-up for qualification.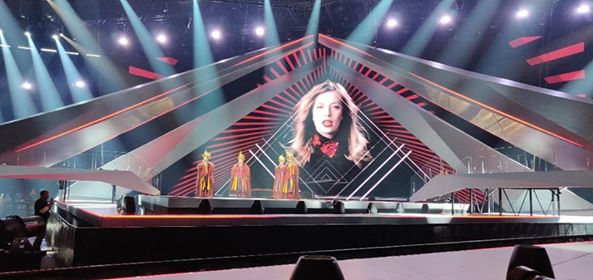 Poland are next, and on the first run through there seems to be some camera issues, and the song stops during the first chorus. After a short pause, they restart the song from the beginning. They are in very elaborate costumes, with a veil reveal, followed by a dress reveal later on. While I am not a huge fan of the style of their singing, their vocals are completely in tune, and overall the performance works. I think this is different and quirky enough to gather sufficient votes to make it through to Saturday's Grand Final.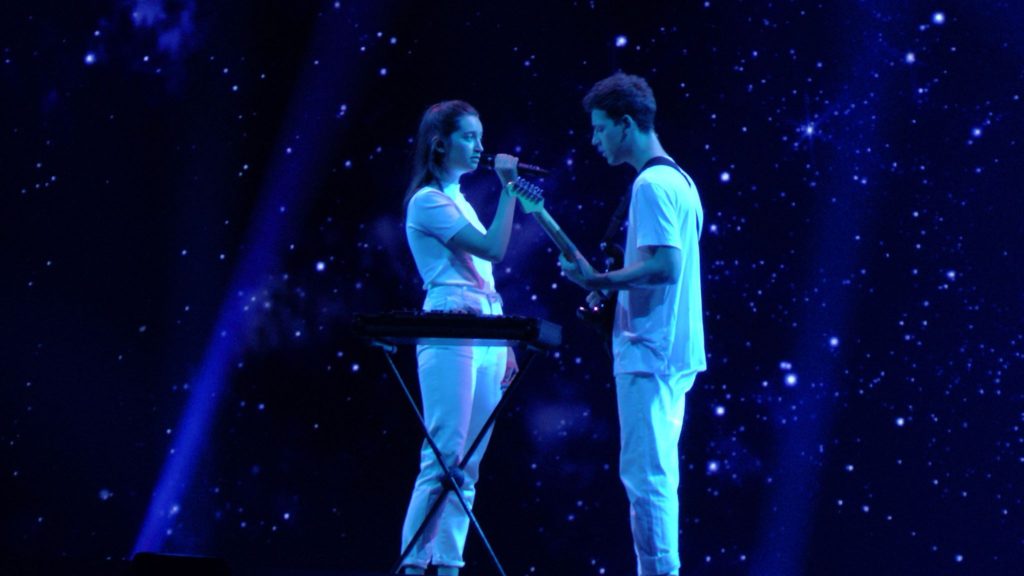 Slovenia are up next with their very intimate performance. Zala seems to be suffering from some sound issues as she keeps playing with her in-ear monitor but she keeps going. There is some very pretty lighting and there's an image of a supernova in the background. Overall, it's a very simple performance, but there's not much light and shade, and it feels a bit too monotone to connect with many juries and televoters. Unfortunately, while it's a very beautiful song, I think that's it's going to get lost in the mix for qualification.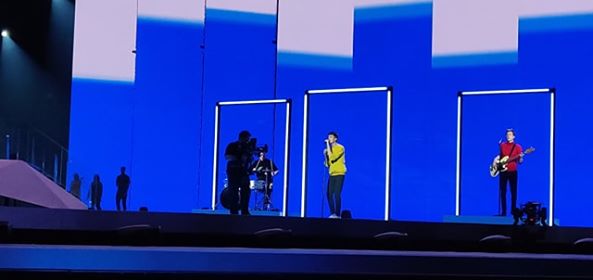 Czech Republic are next and there's no screens on in the press centre so we dashed to the arena in time to catch the last run through. It's bright and colourful and lots of fun, but they have to be careful not to be too cheesy. Towards the end of the song the lead singer says -'Good evening ladies and gentlemen, we are Lake Malawi from the Czech Republic – which is a bit unnecessary but apart from that I wouldn't change anything in the performance. Think this is definitely going to the final.
BREAKING NEWS – We've just discovered that at the end of today, there will be an extra rehearsal from Malta using a stand-in. During their press conference they said that there were things they wanted to change so it must be related to this.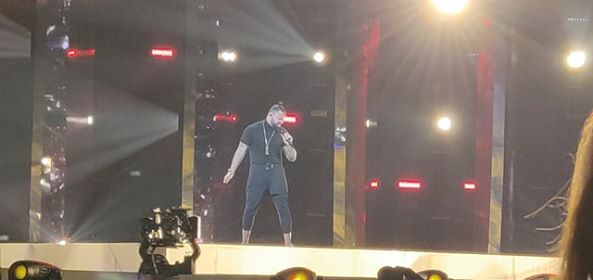 Next up was Hungary, and this was another self-assured and confident performance. This starts off quite dark and but builds to a lot of light at the end of the song. Vocally, it's excellent and the whole package works well. There's even pyro in the last performance! I'm pretty sure this is an easy qualifier.
Flying through the rehearsals with Belarus next. ZENA is the youngest performer in the competition this year but you never would be able to tell with the sheer confidence she has on stage. She is also wearing a new outfit from her first performance white top with neon pink stripes across the sleeves and chest and it works well with the images on screen. She's definitely holding back vocally as she doesn't attempt the high notes and the whole performance could have a bit more energy over all. I think it's got a chance to qualify but I have a feeling she may just miss out. On the second run through she attempts the notes but didn't quite get there. She needs to work on that. On the last run through there pyro. LOTS of it. It looks great. If she can only work on those high notes then she'd definitely be a contender.
Next up is Nevena Bozović from Serbia in what I personally think is the most beautiful dress we've seen so far this year. Her vocals are just outstanding and I got goosebumps! Balkan ballads have fallen out of favour over the past few years but with flawless vocals like that, the juries should rewards her handsomely and I am pretty sure she'll be singing again in the final.
Belgium next, and this is a classic case of how to absolutely ruin your chances at Eurovision. Poor Eliot looks lost on stage and everything is lacking in power and energy. I'm not a fan of his outfit either. His vocals are fine but that's the only positive thing I can say about this performance. Unfortunately the only way I can see this qualifying is if 8 other songs withdraw from the semi final.
Georgia are up, and I must admit their staging for this is rather good. They've made great use of the LED screens and floor. Oto crosses a bridge, there is fire projected on the screens and he and his 5 male backing vocalists are all in fine voice. My problem is that the song feels too angry and I feel it's just a bit too niche to pick up enough votes to see him through to the grand final. However, the Georgian delegation should be proud of doing the best they can to improve their qualification chances as much as they can.
Australia next and this really is something. Kate and her 2 backing singers are on bendy poles which must be at least 5 meters high and they sway around throughout the duration of the song. Vocally, it wasn't quite there on the first run through but it was much improved on the second and third runs. It looks amazing on screen and this is going to stand out a mile. I'm pretty sure this is a qualifier.
And from the ridiculous to well, the ridiculous. Two of the most outlandish stagings one after the other! Of course I'm talking about Iceland. It's like a party in an S&M dungeon! This is such an off the wall performance but it totally works. This is surely to be the one everyone talks about in work on the Monday morning. It's a surefire qualifier but is it too niche to win? Time will tell…
Estonia next. Last time around they faffed around so much to film the augmented reality part of the song that they only managed to get one run through. He misses his cue at the start and has to repeat it, but when he finally gets going it's not too bad. At the end they use the video to lay the screen before switching to the live feed at the end. It's a novel idea, but not convinced it works. Coming after Iceland, it all feels a bit flat. I think Estonia could be in trouble.
They do some more filming for the special effects and they only have time for one more run through of Estonia. He's only had three in total in two rehearsals, and considering some other countries have had six or seven by now, it could put them at a real disadvantage. Perhaps they have been too ambitious.
Last up today is Portugal. Conan is still in that rather dubious emerald green satin outfit. I'm finding it very difficult to put into words what I think of this song. I understand his artistry but you cannot hide fact that there's not really much of a song behind this. Whereas Iceland is weird but in a fun way, Portugal is just too out there and completely inaccessible.