For the third and final set of interviews ahead of Friday's Eurovision You Decide, we catch up with the performers behind Bigger Than Us – Holly Tandy and Michael Rice.
Holly Tandy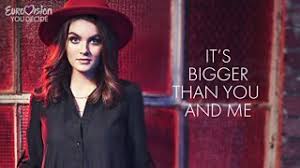 What's your first impression of the Eurovision bubble?
OMG amazing! I didn't realise how big it was. I've always enjoyed watching Eurovision but I never realised that there was such a huge community behind it. It's so great, it's universal. It's almost like anyone can be a part of it, and that's great for me – and I'm just happy to be a part of it.
How did your involvement begin?
I auditioned to be one of the entries this year. I heard all of the songs, but when I heard Bigger Than Us I knew I wanted to do that one. It felt right to me and I'm just so excited to get out on that stage.
You're no stranger to music competitions, is it more or less difficult when you're competing against the same song, but done differently?
It's hard to explain. I feel like everyone's song is so differrent in its own right. Even the same song as mine, Michael's put his own spin on it. I'm confident that mine is different and I just want to put all my energy and effort into thinking about my song and not worry about anyone else because whatever happens happens – and everything happens for a weekend. I just hope that people get behind me!
The song and singer are important, but so is the performance – what can people expect from your performance?
Well I want it to be fun and energetic. Visually I will leave that for a surprise – I'm hoping that will be great too!
What's next for Holly, whatever happens at Eurovision You Decide?
Great question! I hope to be writing and releasing more original music. I recently had a song out with some great DJs. I want to be a musician and create music that makes people feel good.
Michael Rice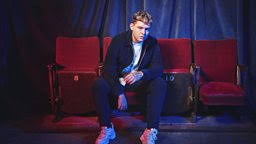 You're already recognised, as we know you from our TV screens already – does that give you an edge?
I don't think that gives you the upper hand, I just feel like I'm like everyone else. But that experience has really made me who I am today and given me the experience now.
You won the first series of Altogether Now -what was that experience like?
Absolutely amazing. It was more than I could have ever imagined – after winning the show I took my whole family to Disneyland as we'd never been abroad before, doing that made me really happy!
And you gave most of your prize money to your mum?
Well not most of it! But we opened a little shop – the Waffle and Crepe shop in Hartlepool – which has been great, it's been selling out everyday.
What's the best flavour waffle or crepe you sell there?
The Waffle Stacker! It's got Nutella and Kinder Buenos, and white chocolate, two layers of waffle!
So it's all change for Eurovision You Decide this year with the Song-off. How has that been working out? Have you been locked in separate rooms trying not to talk to each other or steal each other's ideas?
We got the songs given to us, and I instantly connected to it. I'm Holly's biggest fan and I think this is just a great opportunity to showcase our talents on the Eurovision stage.
There's a strong song-writing pedigree, the songwriters have worked on some amazing Eurovision hits. Have you been a big Eurovision fan?
Yes my whole family watches it. We've always been big supporters, and I'm just so glad I've got the opportunity to showcase myself and actually do it. I'd never thought last year watching SuRie that I'd be in this position now.
What's been your favourite Eurovision moment over the years?
I really loved Salvador, you just really connected with the way he sang it. You've got three minutes to really show the best you can do, so having a song like that which instantly connects is really important.
And if you end up going to Tel Aviv what are you looking forward to the most?
I've never been before, I'm really looking forward to it. I loved Netta last year and am just so excited to have the chance.
With thanks to Gateway FM's David Webster for the interview with Michael.
Photos copyright the BBC.