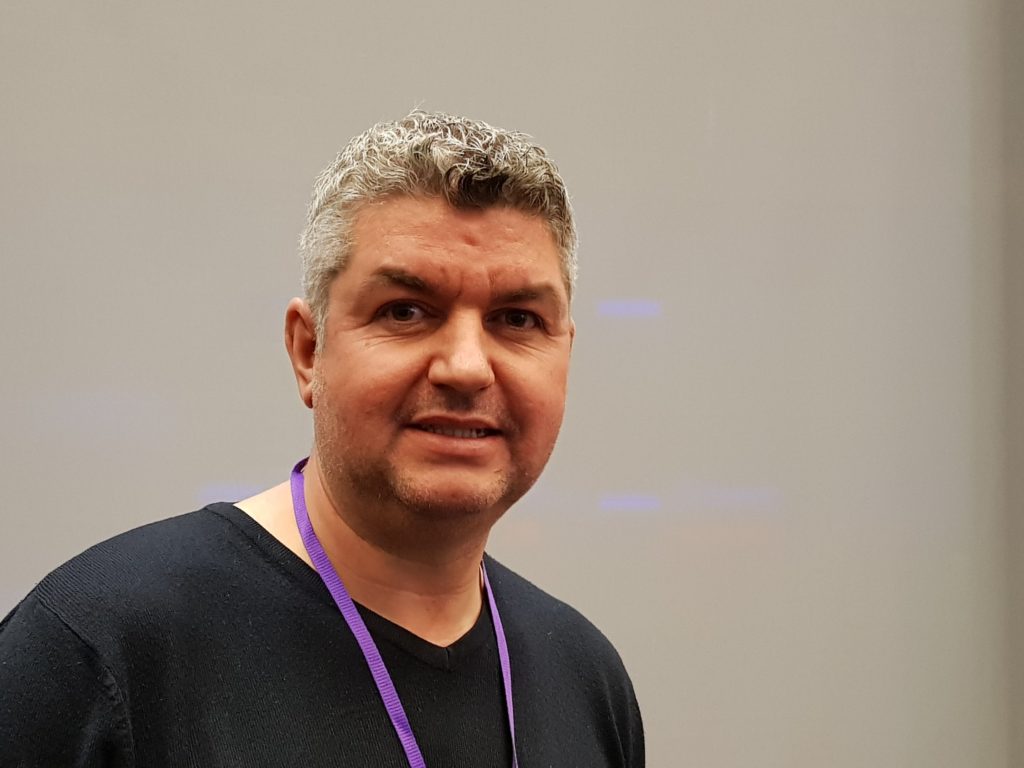 OGAE UK went along to meet the six acts in contention for Eurovision You Decide 2019, following the announcement of their names and the participating songs.
We were also able to catch up with Greig Watts who is working with the BBC as music consultant, following the departure of Hugh Goldsmith.
Questions from OGAE UK President, Alasdair Rendall:
We have our singers and songs unveiled, sum up your thoughts on the line-up?
I think it's a good line up. We've spent a lot of time putting it together, but it's really exciting to now see it out there and released for all to hear.
This is now the fourth year of Eurovision You Decide – what have you tried to do that's different from what's been done before?
Obviously the concept of three songs and six artists is very different to what we've done before. Furthermore, the artists themselves have had a lot more input in the actual productions.
I've done Eurovision for the last three or four years and I think one of the things I've really picked up on is the importance of the emotional connection with songs. If the song connects with the artist then it connects with the audience. I would try to get that in to the songs for Eurovision You Decide 2019. Hearing that the singer really connects with the song can really inspire people to vote for it.
How did you get involved with Eurovision You Decide, as you've worked with a number of delegations over the years?
I've been knocking on the BBC's door for many years, but whilst they weren't answering I went to various other countries!
I worked with Belgium a few years ago, and then we did a lot of song writing camps in Japan and Korea. At the tail end of one of those camps in 2015 we watched Eurovision at the final night's party. I remember watching "A Million Voices" and feeling really inspired. One of my songwriting partners was at home and was texting saying "why don't we do a Eurovision camp"?
So we thought we'd change the formula of the camps we'd been doing, and get a load of Eurovision-type writers together. I went to the MIDEM conference in France and the first person I met was actually the person who had published A Million Voices. So it felt like we should definitely do this!
We invited various artists and luckily we got lucky on the first camp with Agnete's Icebreaker (Norway 2016). So that was our start and we thought we'd carry it on. The next year we had the Czech and the Polish entries, again from camps – and then the BBC did answer an email from me. I heard from Hugh Goldsmith and it was like talking to someone who had a shared passion. I asked if we should do a camp for him for the UK. And from that first came "What Are We Made Of" by Nate James and we also had the co-writers of Freedom Hearts and I Wish I Loved You More in our camps.
We did another camp in 2018, from which three songs came from – Legends, You and Feel The Love. I worked a lot with Hugh, so when he stepped down it made sense for me to get more involved, especially bringing my European knowledge. Eurovision is a European competition but I'm not sure everyone understands – unless you get to Eurovision – that Eastern Europe in particular has a very different music tastes. My music career history has been focused towards Asia, Russia, and across Europe so if I can bring that to the UK and turn around some of the ideas we have, then hopefully we'll have a better chance in Eurovision itself.
How difficult is it getting the balance right between knowing what does well and building on that experience, but also making sure we're doing something new and fresh?
What wins Eurovision? I remember meeting the team last year and thinking "there is no formula" apart, of course, from not doing the same thing every year.
I remember listening to the Eurovision CD the year after the Common Linnets came second, and there were seven duets. What happened though was that all the duets cancelled each other out. So there is one key thing – be a bit brave. There's also a lot of luck involved!
I think this year there will be a lot of Fuegos (Cyprus 2018). Toy is hard to replicate, but I think a lot of countries will be sending that type of song, so the key for us is to "not do a Fuego". Let's be brave and do different variation of songs. I think the key is getting the right artists for the songs, and I think the team have done a great job in getting the artists together.
A great song is important, as is a great singer, but in many ways it's all about the performance and coping with the pressure. How are you working on this side of things?
Being involved last year from the other side we had Legends and I think people learned a lot from that experience, for example making sure a performance is not "over-staged". I also think that that song was before its time, and was actually a very hard to sing. We've learned lessons from that this year, and made sure that the songs are able to be sung well live, as well as in the studio.
And we remember SuRie was amazing on that night in Brighton, she blew everyone out of the water. So really the vocal performance – that connection with the audience -is the biggest thing. We know our vocal coach will do great work with our performers as well.