Vision editor Hass Yusuf writes the words and assistant editor David Ransted supplies the photos.
Today we have second rehearsals for Semi-Final One and first rehearsals for France and Spain. It's going to be a long day – 8.00am-10.00pm! Who needs daylight anyway?
All the Semi-Final One performers will be having their second press conferences, but it's going to be difficult to go to everything today – everything is coming fast and thick.
The rehearsals have just started – went along to see the arena and the impressive stage. It's going to be a great show!
Finally get to hear the Greek performance! During their first rehearsal, which was a closed set, the audio link to the press centre broke off. The group, Argo, offer a very Greek sound with rap. It's a great mesh of sounds I think. The two female singers are dressed in loose white trouser outfits looking like vestal virgins, while the rap guys prance around in loose trackies. One of them starts to get his kit off and likes to tug at his crouch. I'm sure there's an ointment for that. Overall, a good performance.
Wait until you see the outfit that Nina from Croatia is wearing! It weighs a ton but looks amazing. It's all very organic.
Iveta from Armenia also looks amazing – and she's changed her super-hero outfit for an even better one. This act would be a worthy winner! Well, what better opportunity to visit the country.
Anyway, let's go back to yesterday with a report on the Meet & Greets.
First up was Slovenia. ManuElla said it was a dream come true to finally do Eurovision. It was unreal feeling, but being on stage still felt like home to her.
She likes to record all her music in English so that it has wider appeal and can be understood all around the world.
Even though her song here in Eurovision is a Country & Western offering, she likes all genres of music including rock and pop.
Eurovision will show the world that she and Slovenia exist and is very honoured to be here.
One journalist commented something on her outfit – he said the late, great Terry Wogan would've said: "A chest to remember!"
Moving onto Poli of Bulgaria. She began by thanking her backing singers – she didn't have them when she was last here in 2011. Since then she has hosted Junior Eurovision, but never expected to be back to perform for the adult show.
I told her that I really thought the time the country had been away from Eurovision, that they really studied what makes Eurovision click, and they've come up with a song that is a potential winner. She thanks me for my "lovely words", and agreed with my statement. They tried to write a song that would be very popular.
It's obvious to me, that some countries just really want to be part of the contest, but would rather put in a song that wasn't really right for the show, no matter how much they would deny that.
Denmark was next with Lighthouse X. We finally found out that the 'X' is actually meant to be the number ten!
During their first rehearsal they had a problem with the mics and kept hearing each other rather than themselves.
With their music they try to produce harmony and balance. They created the group four years ago, because they wanted to do something a bit different – even though have careers as actors. They wanted their music be used for good causes. They do a lot of charity work supporting vulnerable children. Not all members of the group had wonderful childhoods.
Music is a wonderful tool to break down barriers between race and religion.
They like the fact in Sweden that pop music is taken seriously.
Next was Jamala of Ukraine. She started off saying that she loved all genres of music including classical, jazz, soul, funk and folk. She wants her music to be 'real' and 'true'. It's important that her roots and culture are expressed.
It was a stressful time when they arrived in Stockholm – as their outfits went missing at the airport! But luckily they were found.
Her first rehearsal wasn't perfect – but she's happy about that, because there's lots of room for improvement.
She apologized that some people found her song very sad, but it was important to send out the right message. Artists should sing about true feelings.
Nika Kocharov & Young Georgian Loliataz representing Georgia was on next. Nika did all the talking, while one of the guys from the band had a look of horror about him. Journalists and fans have that effect sometimes.
One member of the band, that didn't look horrified, actually said he was to perform a somersault and the splits, but had a bad back.
The stage at Stockholm didn't scare them as they were used to performing on large sets. Members of the band come from different background and tastes, so all bring something special to their music.
Obviously they're into Brit rock, with influences including Blur, Pulp – and especially the Beatles.
They said their producer and songwriter, famous Swede Thomas G:Son helped to polish them up, because before they were bit of a 'dirty' group.
They think it's a pity that the group aren't allowed to play their instruments live – Nika feels all alone, as all he can hear on his ear-piece is himself!
Nika's other passion is cooking. He feels that music and cooking are similar, as they both require load of ingredients.
Agnete from Norway had to cancel her Meet & Greet because of her depression. She's very open about her illness, but luckily it doesn't impede her ability to perform on stage. Let's wish her good mental health!
But she wanted to give the press a message that she was very with her first rehearsal. Some adjustments are needed, but she was very confident of the Swedish team to sort things out.
Her dream is to always be on stage singing and feels that she can win Eurovision! Well, anything is possible (but probably not).
She can be proud that she is a role model for those suffering with depression.
Eneda of Albania got all emotional when talking about her three year-old daughter, as she's really missing her. She also misses her husband who helped start her career. Here next project after Eurovision will be organising her daughter's birthday party.
Being on the Eurovision stage, like the title of her song, was a fairytale for her.
The message of her song is that love conquers all. She feels a lot of emotion when singing her song.
She also said that an artist has to 'taste' their music. If you really understand your song, then you'll succeed.
She's going to do her best to win, but as there can only be one winner, everyone at Eurovision should treat it as a fun party.
The final Meet & Greet of the day was for Laura of Belgium. Despite her young age, she's actually a veteran in the business. She knows all about where to pose for the camera, etc. She really tries to perform to the audience trying to get the right feeling for her act. And she really wants to see people dancing to her song.
She thinks being a young participant in this year's Eurovision will add to her experience to help further her career.
Her act has a Motown theme and incorporates the colours of the Belgium flag.
Even though she appears confident on stage, she does have nerves but as learned how to control them.
The message of the Come Together theme for her is that everyone who help each other and that we're not alone.
David Ransted has been standing all day in the arena taking photos of the rehearsals today, but we've had a bit of a technical problem so won't be able to show you all the performers from Semi-Final One yet.
I've been to a few proper press conferences today. They're not much different from the Meet & Greets actually. And everyone seems to have exhausted their questions! I managed to ask a few, but sometimes there really isn't more to ask that might be of interest to a Eurovision song.
So just a few snippets
San Marino: Anyway, Serhat from Eurovision was on top form again. Being a polished TV presenter in the past, he knows how to handle a press conference. He's very happy that the team he always works with are with him in Stockholm. The second rehearsal went well, but because his song is very up-tempo thet need to change a few camera angles and lighting.
To promote his song he went to nine different countries, but wished he could've gone to all the 41 countries that are in the contest (besides San Marino). He's quite pleased that San Marino, a very small country, is represented by such an international team – including Turkey, Greece, France, Germany, Italy and more!
Croatia: I asked Nina that as she has a passion for writing, calligraphy and colour, does it affect her act? Her outfit on stage is very organic in nature. She said it certainly did – when she was on The Voice, she used colour very effectively in her act. The whiteness in her Eurovision act is very important.
Netherlands: Douwe took the opportunity to buy an ABBA album while he was in Stockholm. He grew up with Country music so is happy to sing that genre at Eurovision. His favourite Beatle is George Harrison, and revealed that his father made the outfits for he Beatles for one of their albums (Either Yellow Submarine or the Sergeant Pepper). From this year's contest he really likes the Ukrainian. He admitted as a kid that he downloaded loads of music as a kid – he was like a kid in a candy store! Hurrah for Youtube iTunes!
Russia: Sergey still thinks he has a few more details to fix up, as his act is a very difficult presentation. At the moment everything is a bit too dark and the video mapping isn't right yet. He showed off his bird tattoos on his biceps to us. He actually avoided coming to Eurovision for at least eight years. He was too busy with his theatre and TV work and was actually waiting for the right song. As soon as he heard You Are The Only One, he immediately signed up!
Estonia: Juri likes that his act has been referred to as Bond-like. He loves the whole James Bond concept and loves wearing his suit. He admits to being a self-confessed Eurovision fan. As Estonia is a small country, most families always watched the show. His first memories of the show was in 2002 when Estonia hosted the show. And encouraged everyone to vote for him. And why not indeed.
Let's interrupt the Press Conferences, as France, followed by Spain are having their first closed set rehearsals.
France first. This is my favourite song of the contest. This is one of the very few that can probably stop the Russian juggernaut. But Russia has the advantage of a superb stage act. The French singer, Amir, more or less just stands in one spot and relies on the impressive graphics all around him to help tell his story. Nothing wrong with that – but it seems these days that you need a special hook to grab the attention of the TV viewers. But Amir has the stage presence to pull you in, so it should do well regardless. This song, J'ai Cherche (I've Been Looking For), should score highly with the juries.
Barei from Spain, singing Say Yah! Is the last act of the day. It's an energetic performance from Barei, who makes full use of the main stage and its island. She's helped along by four backing singers. Again, this is act that really depends on the performance not relying on any gimmicks –except when she 'falls' over. Don't fret everyone, she'll be fine!
And that should be with it for tonight. Back tomorrow with more info on the Meet & Greets and Press Conferences.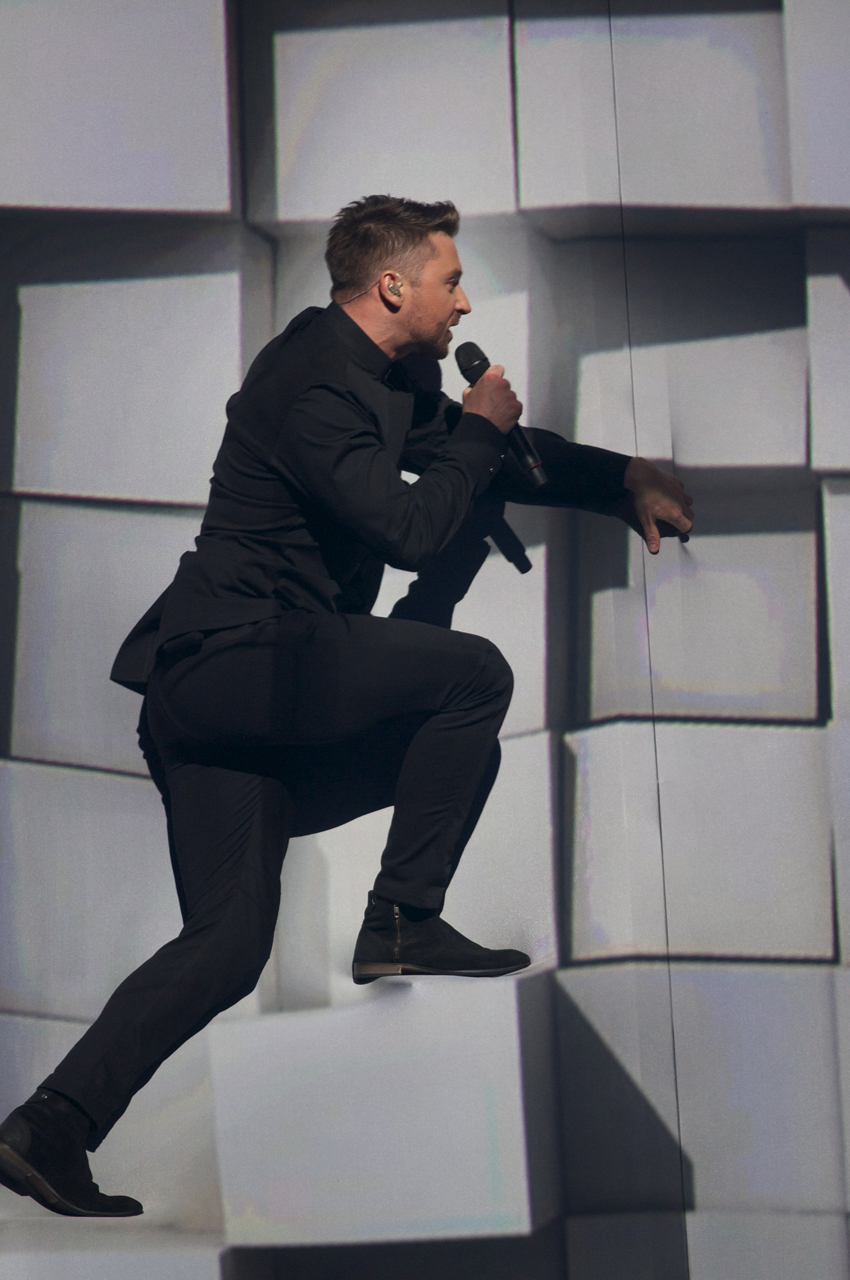 Lets leave you with a pic of Sergey from Russia trying to escape…